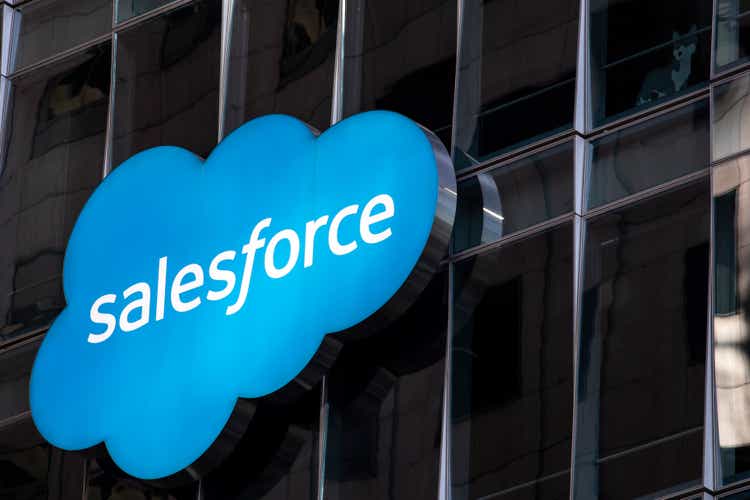 Adobe (NASDAQ: ADBE), Snowflake (NYSE: SNOW) and Salesforce (NYSE: CRM) were among the biggest decliners in the business software space on Wednesday after Microsoft's (NASDAQ: MSFT) forecast for its Azure cloud unit worried investors.
Adobe ( ADBE ) fell 1.8% in mid-day trading, while Snowflake (SNOW) and Salesforce (CRM) fell by 3.7% and 1%, respectively.
Other cloud-related business software stocks also fell, including Datadog (DDOG), which down almost 7%while Oracle (ORCL) and IBM (IBM) recorded more modest losses.
IBM ( IBM ) is scheduled to report fourth-quarter results after the close of business on Wednesday.
Microsoft ( MSFT ) posted conservative guidance on Tuesday that fueled debate among several Wall Street analysts about the company's prospects for the cloud business.
Wedbush Securities analyst Dan Ives said demand for Azure, Microsoft's ( MSFT ) cloud computing services is softening, and growth guidance in the low 30% range for the March quarter is considered "conservative." During the company's conference call, Microsoft ( MSFT ) management noted that the slowdown seen in December continued to worsen, leaving Ives to ponder Microsoft's ( MSFT ) near future.
"The question now on Street's mind is what does this Azure do [deceleration] the path looks like the coming quarters in a very uncertain macro [environment]" Ives wrote in a note to clients. Ives added that Microsoft ( MSFT ) helped "clear the decks for its 2023 and 2024 fiscal years and set the stage for a hittable [or] outperforming numbers in the coming quarters," with Azure growth stabilizing in the 30% range.
Jefferies analyst Brent Thill, who has a buy rating on Microsoft ( MSFT ) stock, noted that the guidance implies that the situation will worsen. Thill said further "slowdowns" of growth of 4 to 5 points at constant exchange rates were expected, as the company issued a fiscal third-quarter revenue forecast of $50.5 billion to $51.5 billion. Wall Street analysts previously estimated that Microsoft ( MSFT ) would post revenue of $52.42 billion for the third quarter.
BMO Capital Markets analyst Keith Bachman downgraded Microsoft ( MSFT ) to market perform from outperform after the report, citing uncertainty surrounding Azure.
"Until Azure's growth stabilizes, we expect the stock to be range-bound," Bachman wrote.
Microsoft's ( MSFT ) Azure rivals Google ( GOOG ) ( GOOGL ) and Amazon ( AMZN ) fell 3.5% and 1.6%, respectively.
On Monday, Microsoft ( MSFT ) confirmed it made a "multi-year, multi-billion dollar" investment in OpenAI developer ChatGPT.