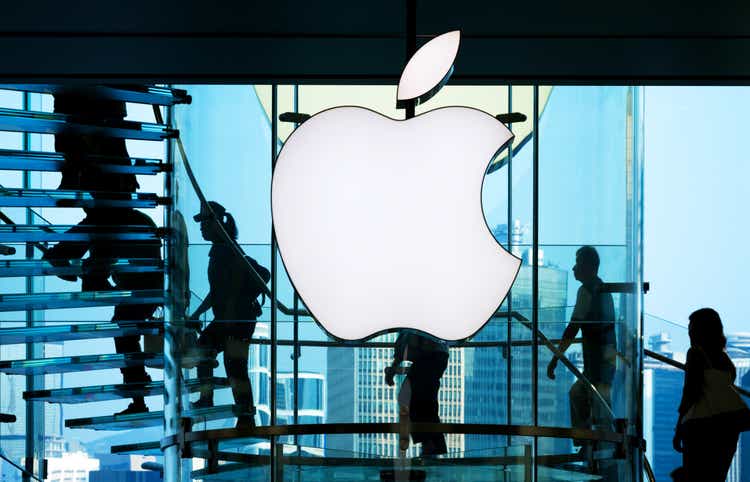 apple (NASDAQ: AAPL) is scheduled to report fiscal first quarter results next week. And while all expectations are for a somewhat disappointing report, any commentary on the next few quarters could be slower than expected, according to to Bank of America analyst Wamsi Mohan.
Mohan, who has a neutral rating and a $153 price target per share for Apple ( AAPL ), noted that the company's March quarter revenue decline could be as much as 20% larger than expected.
"The tone of the call will be key to understanding the underlying demand trajectory with respect to [December quarter] was significantly limited supply for the higher-end Pro models of the iPhone," Mohan wrote in a note to clients. Mohan added that his iPhone tracker shows device availability has normalized "leading us to conclude that demand may be lower than expected in [the first-half of 2023]."
Analyst consensus expects Apple ( AAPL ) to report quarterly earnings of $1.96 per share on February 2nd on revenue of $122.05 billion.
Mohan slightly lowered his earnings per share estimate for Apple's ( AAPL ) fiscal year 2023. Mohan now expects Apple ( AAPL ) to earn $5.73 per share, down from his previous forecast of $5.82 per share. However, Mohan raised his revenue forecast slightly and now believes Apple ( AAPL ) will report sales of $389 billion for the year, up from his previous estimate of $383 billion in revenue.
Mohan also said the first half of the year is likely to be challenging for Apple ( AAPL ), partly due to a weaker iPhone cycle, and from both a supply and demand standpoint. And questions remain about the second half of the year given the weakness in the economy and the next iPhone launching, as well as the company's upcoming mixed reality headset, which is expected to debut later this year.
In November, Apple ( AAPL ) warned that disruptions outside of China related to the country's COVID-19 issues would affect iPhone 14 Pro shipments. Since then, China has lifted its COVID-19 restrictions and is reopening its economy.
On the bright side, if Apple ( AAPL ) were to experience a resurgence in services, due to an improved video game background and stability in advertising, that would be a "net positive," Mohan added.
Other positives could be less foreign currency impact, the continued reopening of China and progress in vertical integration, as Apple ( AAPL ) continues to bring more components in-house.
Earlier this week, Deutsche Bank cut its 2023 estimates for Apple ( AAPL ) ahead of the iPhone maker's fiscal first-quarter earnings release.