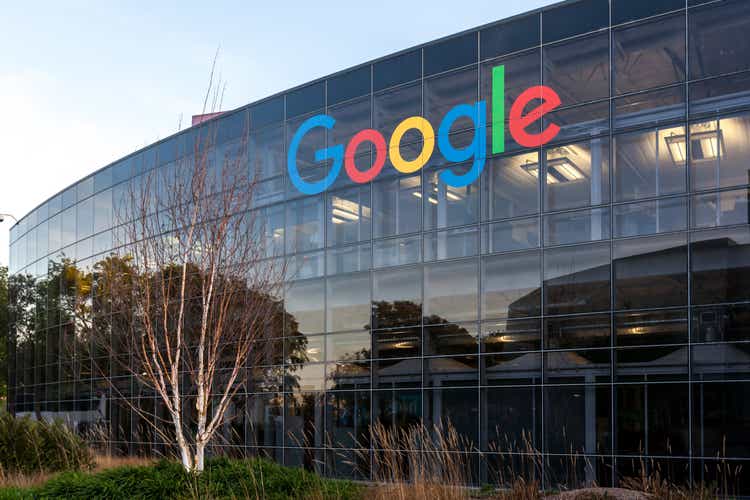 Market interest in AI technology remained high this week, with Google (NASDAQ: GOOG) grabbing a lot of attention and getting a mixed bag of reactions to the company detailing its new artificial intelligence and search initiatives.
On Thursday, Google ( GOOG ) tried to go all out for its AI initiatives with the company's event in Paris. A highlight of Google's ( GOOG ) gathering was the unveiling of a "multisearch" feature that lets people use text or images to search on their mobile devices. Google ( GOOG ) also demonstrated updates and improvements to its iOS Translate app and Google Maps feature. The company's Multisearch feature is powered by Google's ( GOOG ) Multitask Unified Model AI technology, also known as MUM.
However, for all of Google's ( GOOG ) AI plans, Wall Street wasn't on board.
On Wednesday, Google's ( GOOG ) parent company, Alphabet, saw shares drop as much as 8% as several industry analysts said the company was losing the AI ​​public relations battle to Microsoft.
That was when Google (GOOG) launched Bard, its AI chatbot designed to compete with Microsoft (NASDAQ: MSFT) and his new multi-billion dollar investment in OpenAI developed by ChatGPT. Microsoft ( MSFT ) recently dove into the AI ​​game in a big way, saying it will include ChatGPT in its Azure cloud offering, and AI with its Bing search engine.
Analyst Colin Sebastian of Baird said Google ( GOOG ) has "much more to lose than to gain" if it brings its AI products to market too soon. Sebastian also said Microsoft ( MSFT ) is "winning" the early AI game.
But as the week progressed, the movement of all the new AI endeavors showed that who is in the technological driver's seat will likely remain a matter of personal opinion.
For example, Microsoft ( MSFT ) got a boost as analysts praised its artificial intelligence-powered Bing search engine and Edge web browser. Wells Fargo analyst Michael Turin said Microsoft's ( MSFT ) AI is "significantly improving" the quality and relevance of search queries.
Meanwhile, while Alphabet ( GOOG ) took a hit this week, the company still received such positive views from industry analysts, with Morgan Stanley's Brian Nowak saying, "The AI ​​race is on."
Microsoft (MSFT) and Google (GOOG) weren't the only ones on the front lines of the AI ​​battle this week.
Chip companies such as Nvidia ( NVDA ), Advanced Micro Devices ( AMD ) and Applied Materials ( AMAT ) got a boost, largely on expectations that all the new attention and investment in AI could lead to a boom in business for the semiconductor sector.
Skyworks Solutions ( SWKS ) also got a boost for its role in the market for chips used in satellite communications, with the company launching a $2 billion share buyback.
C3.ai (NYSE: AI), which actually has "AI" in its name, was among the smaller AI companies whose shares performed strongly during the week. Other AI-related stocks that benefited from the growing interest in AI were SoundHound AI ( SOUN ) and BigBear.ai ( BBAI ).
And by the end of the week, Tigress Financial Partners analyst Ivan Feinseth said that the AI ​​efforts of Facebook parent Meta Platforms (NASDAQ:META) should benefit from its "most valuable asset", its huge user base.