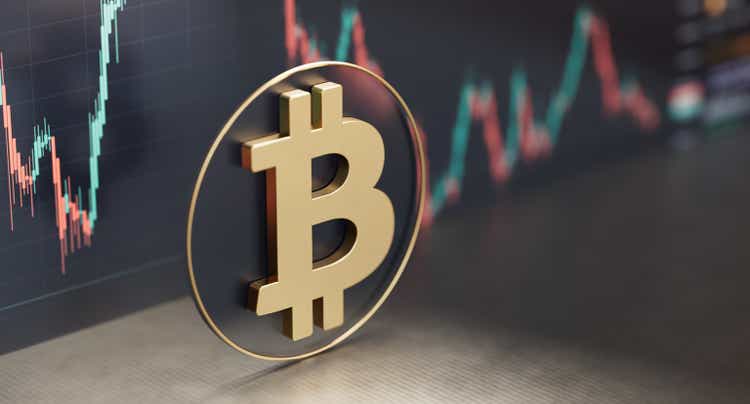 Bitcoin (BTC-USD) should end the week 7.7% lower as sentiment was hit by renewed macroeconomic concerns as well as regulatory scrutiny after the US SEC shut down Kraken's cryptocurrency exchange investment service.
Broader financial markets were influenced by increasingly hawkish comments from Federal Reserve speakers, in response to recent data that signaled a stubbornly resilient labor market.
Meanwhile, Kraken has ended its crypto-asset-as-a-service program and will pay $30 million to settle SEC charges. The regulator claimed that Kraken failed to register its investment program, which exposed investors to risks with minimal protection.
"Since the SEC hasn't even approved a Bitcoin spot ETF so far, it seems unlikely that it would approve a slightly more obscure product like staking," said Markus Thielsen, head of research, Matrixport. "While SEC enforcement is negative for the industry, it has excluded US crypto users from being part of the innovation. The winners are likely to be stake providers in Asia."
Coinbase ( COIN ) CEO Brian Armstrong has warned that the SEC may want to get rid of crypto investments entirely for retail customers.
Bitcoin (BTC-USD) stayed within $21.55K-$23.68K this week, halting its rally this year. The global crypto market capitalization currently stands at $1.01 trillion, which is down 0.7% on Thursday, according to CoinMarketCap.
Regulatory updates
Fed Governor Christopher Waller called cryptocurrencies "a speculative asset, like a baseball card." He also warned that if the price of cryptocurrencies falls to zero, "don't expect the taxpayers to socialize your losses."
But Philadelphia Fed President Patrick Harker said cryptocurrencies are likely to remain in demand despite the recent bear market.
Meanwhile, the SEC has warned investors that crypto investments in some self-directed IRAs may be unregistered securities.
The infection continues
Crypto exchange LocalBitcoins is shutting down after running for more than 10 years as a result of a "very cold crypto-winter".
Crypto ATM operator Coin Cloud has filed for Chapter 11 bankruptcy protection, with estimated liabilities of up to $500 million. The company owes more than $100 million to insolvent crypto lender Genesis, its largest creditor.
Digital Currency Group has begun offloading shares in trusts managed by its unit Grayscale Investments at a deep discount as it seeks to raise funds to repay creditors of its Genesis unit.
Ishan Wahi, the former CEO of Coinbase (COIN), has reportedly pleaded guilty to two counts of conspiracy to commit wire fraud in the first crypto insider trading scheme.
Important news
Hut 8 Mining (HUT) will merge with US Bitcoin in an all-equity merger expected to give the combined company a market value of ~$990 million. Crypto mining stocks fell on the news as more consolidation is expected in the sector.
Deutsche Bank's asset management unit, DWS Group, is reportedly considering taking minority stakes in two crypto companies as a means of fueling growth.
PayPal has halted work on the stablecoin as New York regulators reportedly investigate its key partner in the project.
The price of Bitcoin
Bitcoin (BTC-USD) is down

0.7%

to $21.64K at 7:00 PM ET, and ether (ETH-USD) fell

2.1%

to 1.51 thousand dollars.
SA contributor Ryan Wilday said the rally in bitcoin (BTC-USD) over the past month is promising, but bulls have more work to do to confirm that the bearish trend that began in 2021 is over.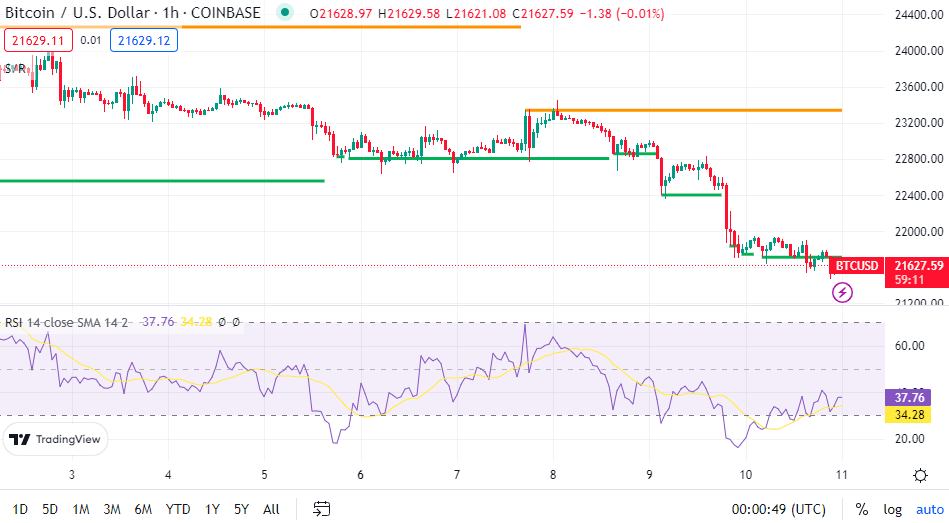 Crypto-related stocks that finished lower on Friday: CleanSpark (CLSK) -8.8%Hut 8 Mining (HUT) -8.2%Bitfarms (BITF) -6.6%. Coinbase (COIN) -4.3%Riot Platforms (RIOT) -2.5%.