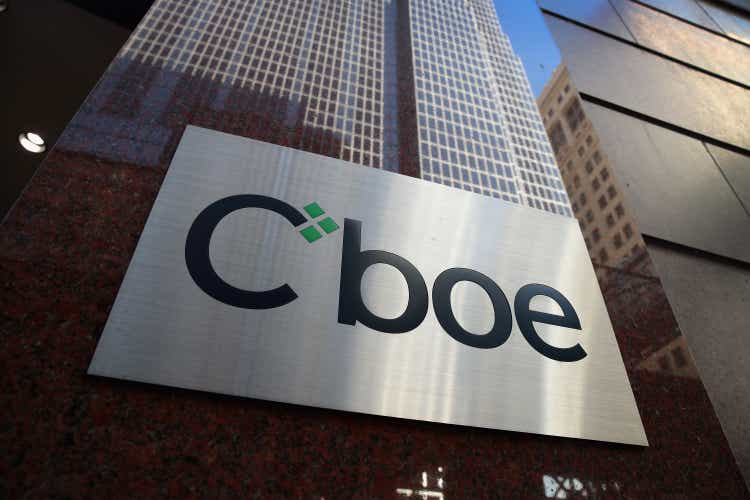 Cboe Global Markets (SHISIŠI: CBOE) slipped 2.5% in Friday morning trading after the company's sales fell slightly below the average Wall Street consensus. However, its earnings and revenue increased compared to the same quarter last year both its derivatives and data and access solutions businesses strengthened significantly.
For 2023, the stock exchange expects organic total net income growth of 7%-9%, above the mid-term expected organic total net income of 5 to 7 percentage points.
Adjusted operating expenses for 2023 are expected to be $769 million to $779 million from a base of $652 million in 2022. And full-year capital expenditures are targeted at $60 million to $66 million.
Adjusted Q4 EPS of $1.80, beating the average analyst estimate of $1.76, up from $1.70 in 2021Q4 Net income of $457.1M, vs consensus of $458.6M , up from $390.5 million a year earlier.
Adjusted EBITDA was $292.3 million for the three months ended December 31, 2022, compared to $263.7 million for the three months ended December 31, 2021. Adjusted EBITDA margin of 63.9% vs. 67 .5% a year ago.
Operating expenses totaled $206.6 million compared to $169.9 million in the fourth quarter of 2021.
Total average daily options volume was 42.69 million contracts versus 39.95 million contracts in the previous quarter.
Previously, Cboe Global Markets Non-GAAP EPS of $1.80 was up $0.04, revenue of $457.1 million was down $1.54 million.