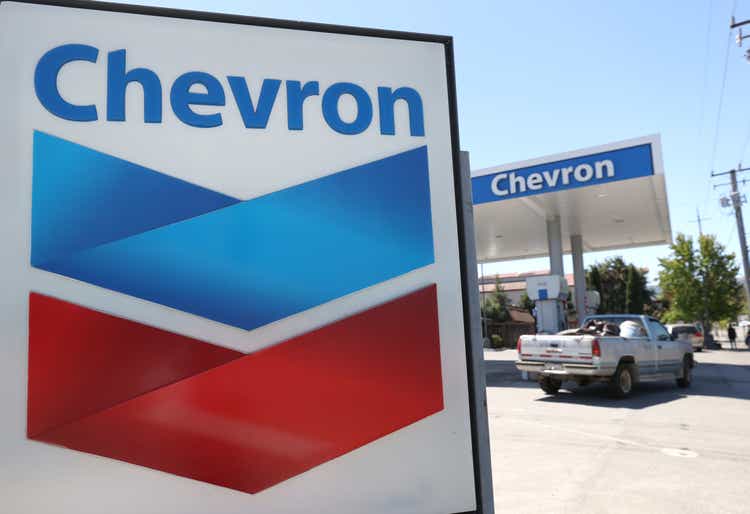 Chevron (NYSE: CVX) +3.6% in early trading Thursday after it revealed plans to buy back $75 billion of its stock and boosted its quarterly dividend by 6%, a move that could bode well for the company's upcoming fourth-quarter results and long-term guidance.
At Wednesday's closing price of $179.08, shares of Chevron ( CVX ) would have a dividend yield of 3.4%, beating Exxon Mobil's ( XOM ) yield of 3.2%.
JP Morgan analyst John Royall said if Chevron ( CVX ) kept the upper limit of current long-term stock buyback guidance of $5 billion to $15 billion, the full authorization would be exhausted in five years; the analyst believes a higher buyback authorization "could signal the arrival of higher guidance, perhaps a jump to $5 billion to $20 billion."
RBC Capital's Biraj Borkhataria noted that while the new buyback program has no expiration date, "we see it as likely that Chevron will increase its quarterly rate of buybacks from its current $3.75 billion, supported by its strong balance sheet."
Bank of America's Doug Leggate said the buyback plan "recognizes a balance sheet that is moving toward zero net debt and speaks to the balance this management has navigated between capital discipline and sustainable dividend growth."
Over the past three quarters, Chevron (CVX) has averaged 200% year-over-year earnings growth; in the third quarter, the company beat earnings estimates, as EPS jumped 88% to $5.56 while sales jumped to $66.6 billion.