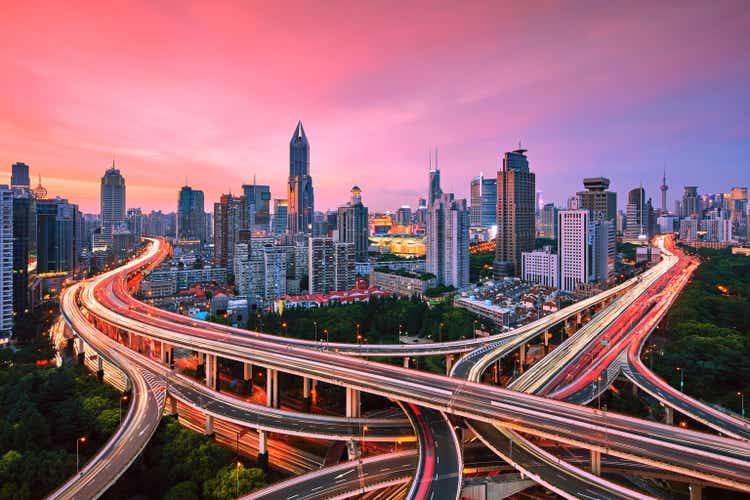 The question of how to play out the economic reopening in China is becoming increasingly interesting as the country's mobility and traffic measures are very tight for the Chinese New Year holiday as consumers move back to the streets. Some analysts believe China's reopening is just beginning, with as much as $1 trillion in excess household savings ready to support spending and growth.
Investors have already snapped up some Chinese stock plays on the reopening on the view that the Chinese market could outperform the US in the short term. In the retail sector, some clear winners that have already recovered include Luckin Coffee ( OTCPK:LKNCY ) , up 60% since November, and Yum China ( YUMC ) up 30%. However, Wells Fargo sees many more opportunities for investors with the consumer momentum just getting started. Of note, luxury players such as Swatch ( OTCPK:SWGAY ), Burberry ( OTCPK:BURBY ) and Richemont ( OTCPK:CFRHF ) indicated strong traffic trends in January.
"As the Lunar New Year begins on January 21st, we believe a re-opening against multiple quarters of lighter regional comparisons will benefit companies with the highest exposure," analyst Ike Boruchow updates.
The firm singled out Nike ( NKE ), Tapestry ( TPR ), Capri Holdings ( CPRI ), Farfetch ( FTCH ), and Canada Goose ( GOOS ) as some of the apparel retailers with exposure to China ranging from 12% to 20%. Other apparel names that could see tailwinds from China due to exposure above 5% include Lululemon ( LULU ), Under Armor ( UAA ), Gap ( GPS ), Kontoor Brands ( KTB ), and PVH ( PVH ).
Of course, Macau casino operator Las Vegas Sand ( LVS ) has 68% of its revenue to China, and Wynn Resorts ( WYNN ) has 40% exposure, but both stocks have rallied strongly and may already be pricing in near-term upside. Within the leisure sector, Goldman Sachs believes that InterContinental Hotels Group (IHG) could be an under-the-radar pick with the company benefiting from an expected increase in travel with its Holiday Inn chain across China. The company noted that Chinese travelers often look for well-known brands when they go abroad. There's also Trip.com ( TCOM ), which reported a big increase in travel activity in January. China travel stocks are still bullish on Wall Street despite rising 48% over the past six months and have a Strong Buy Seeking Alpha Quant Rating that stands out compared to other online travel stocks.
Within the broad consumer sector, some other companies with a large mix of operations from China include Domino's Pizza ( DPZ ), Estee Lauder ( EL ), Aptiv ( APTV ), and Starbucks (NASDAQ: SBUX). Cowen analyst Andrew Charles sees China's recovery as the main catalyst for Starbucks shares this year with a 100% company-owned business model. China is also expected to give SBUX the earnings boost it needs to beat its recently announced long-term guidance.
Over at Seeking Alpha, author David Zanoni breaks down other plays reopening in China, including some of the names in the tech sector. Meanwhile, Fade The Market author believes Nike is still undervalued due to its re-opening in China.