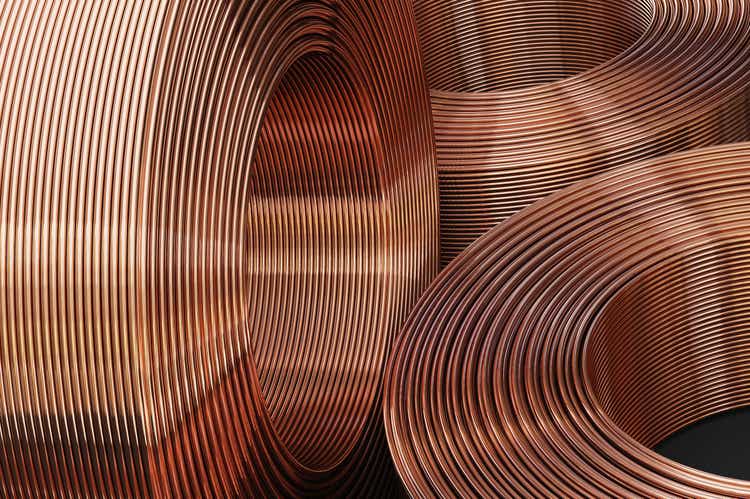 Copper prices fell by the most in nearly seven weeks on Wednesday as worries about demand outweighed supply disruptions and bets that the end of China's COVID-19 restrictions would reignite growth.
Front Month Comex Copper (HG1:COM) for February delivery closed -2.7% to $4.111/lb, its fifth loss in the past seven sessions and its biggest drop since December 15.
ETFs: (NYSEARCA:COPX), (NYSEARCA: CPER), (JJC), (JJCTF)
Underscoring the uncertainty, a Caixin report showed that Chinese manufacturing fell for a sixth straight month in January, undermining a more positive reading of Chinese factory activity.
Copper has risen about 20% since the start of November, meaning the red metal is at risk of a pullback if demand conditions don't improve soon, Jiang Hang, head of trading at Yonggang Resources, told Bloomberg.
"We are very cautious about copper, the price of which has high expectations" as China reopens, Jiang said, citing an increase in domestic inventories and low market rates at producers.
China-backed miner MMG Ltd. has put its huge Las Bambas copper mine in Peru under care and maintenance because of the unrest that has been going on since December 7, when Congress deposed President Castillo and arrested him.
The Las Bambas mine, which accounts for about 2% of the world's copper production, faced a shortage of critical supplies due to the disruption of inbound and outbound transport.
Freeport McMoRan (FCX) remains a buy with strong copper demand ahead as the macroeconomic backdrop improves, writes Chris Lau in an analysis published recently on Seeking Alpha.