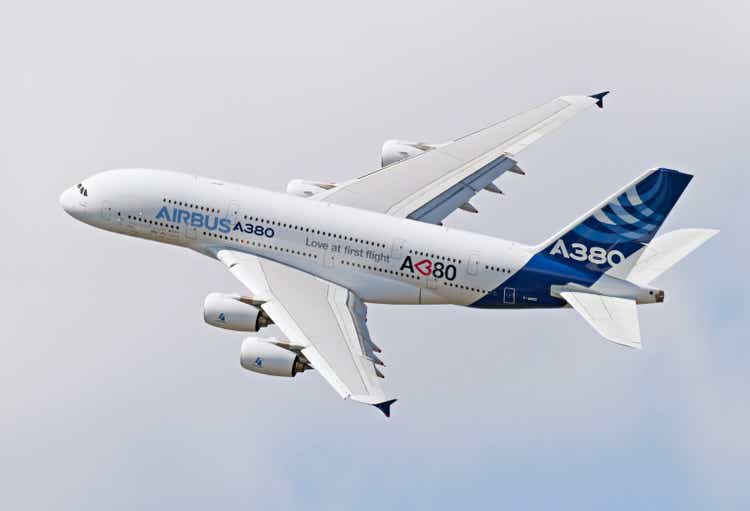 Aircraft lessors are returning their largest planes to service as airlines struggle to keep up with demand for global travel, The Wall Street Journal reported. Aircraft that were mothballed as long-haul lines were temporarily closed during beginning of the pandemic are especially necessary.
Boeing (NYSE: BA) and Airbus ( OTCPK:EADSF ) are seeking new orders for larger planes as airlines including British Airways, Deutsche Lufthansa and Qantas Airways return to flying their double-decker Airbus A380 jumbo jets.
However, they are also cautious about increasing production due to long-term trends. Before the pandemic, airlines showed an increasing preference for single-aisle, long-range narrow-body aircraft. These aircraft are easier to fill and have higher fuel efficiency.
Smaller aircraft were also the first to fly after pandemic restrictions were lifted, boosting demand for domestic and short-haul flights. Airlines kept their larger aircraft parked and either canceled or delayed orders for new aircraft.
Boeing ( BA ) and Airbus ( OTCPK:EADSF ) are seeing increases in orders for their larger aircraft. Gross orders jumped 64% from a year earlier to 301 in 2022, according to data cited by the Journal.
Boeing ( BA ) received 217 orders for wide-body planes last year, the most since 2014. The orders include 100 of its 787 Dreamliners from United Airlines ( UAL ), which has an option to buy 100 more.
This year, Airbus ( OTCPK:EADSF ) received an order for seven A350s, including four freighters, from Air France-KLM Group ( OTCPK:AFRAF ). The European carrier is looking to replace its 747 freighters. Boeing ( BA ) delivered its last 747 last month.
Boeing ( BA ) and Airbus ( OTCPK:EADSF ) are competing for a large order from Air India estimated to total about 500 planes. The deal is expected to include the A350, 787 and Boeing's ( BA ) 777X, which is in development, the Journal reported.