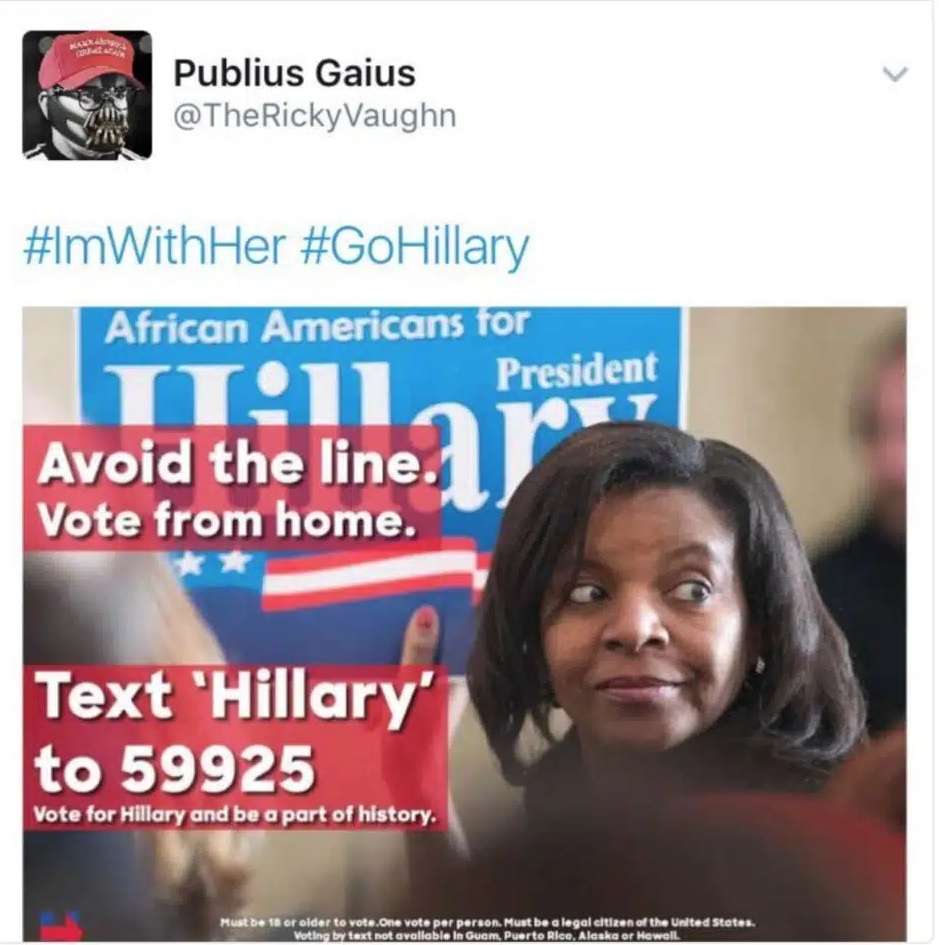 Here is the press release from the EDNYUS State Attorney's Office:
Douglass Mackey, also known as "Ricky Vaughn," was found guilty today by a federal jury in Brooklyn of a charge of conspiracy against rights stemming from his scheme to deprive individuals of their constitutional right to vote. The verdict followed a week-long trial before United States District Judge Ann M. Donnelly. If convicted, Mackey faces a maximum sentence of 10 years in prison…

In 2016, Mackey gained a Twitter audience of approximately 58,000 followers. A February 2016 analysis by the MIT Media Lab ranked Mackey as the 107th most important influence on the then-upcoming presidential election.

As proven at trial, between September 2016 and November 2016, Mackey conspired with other influential Twitter users and members of private online groups to use social media platforms, including Twitter, to spread false messages encouraging supporters of presidential candidate Hillary Clinton to they "vote" via text message or social media which in reality was legally invalid. For example, on November 1, 2016, around the same time that Mackey was sending tweets suggesting the importance of limiting "black outing," the defendant tweeted an image showing an African-American woman standing in front of an "African-Americans for Hillary" sign.
The ad read: "Avoid the lines. Vote from home," "Text 'Hillary' to 59925," and "Vote for Hillary and be part of history." The fine print at the bottom of the deceptive image read: "You must be 18 or older to vote. One vote per person. Must be a legal citizen of the United States. Text voting is not available in Guam, Puerto Rico, Alaska, or Hawaii. Paid for by Hillary For President 2016" The tweet included the hashtag "#ImWithHer," a slogan often used by Hillary Clinton. On or about Election Day 2016, at least 4,900 unique phone numbers texted "Hillary" or some derivative to the text number 59925, which was used in multiple misleading campaign images tweeted by Mackey and his co-conspirators.

A few hours after tweeting the first image, Mackey tweeted a picture showing a woman sitting in a conference room typing a message on a cell phone. This deceptive image was written in Spanish and mimicked the font used by the Clinton campaign in authentic ads. The image also included a copy of the Clinton campaign logo and the hashtag "ImWithHer."
For my reservations about the case, see here; for the judge's opinion rejecting Mackey's First Amendment defense, see here. Congratulations to prosecutors Erik D. Paulsen, F. Turner Buford and William J. Gullotta who obtained a guilty verdict. Thanks to my colleague Prof. To Rick Hasen (Election Law Blog) for guidance.