In Nick Sirianni's first Super Bowl as the Eagles' head coach, he experienced one of the true gems of Super Bowl week: He was asked one of the funniest questions he's ever heard.
One of the best things the NFL does is accredit just about anyone and everyone for the artist formerly known as Super Bowl Media Day. Of course, no dollar should be left on the table, so since 2016 it's been a prime-time Monday event known as Super Bowl Opening Night.
Fortunately, although the day and name have changed, the spirit of the event has remained the same. Some head-shaking questions are asked out of ignorance. Others are from someone trying to be the class clown in a large group.
Due to the pandemic, there was no opening ceremony for the previous two Super Bowls. The evening returned in full swing on Monday night and someone came out swinging. From somewhere in the throng of people on the floor at the Footprint Center, someone asked the head coach of the Philadelphia Eagles if the Super Bowl was a must-win game.
Someone asked what?
Championship game. The last game of the season. The most watched show on the American television calendar. A game where Rihanna decided to take off her jersey and – despite being worth a billion dollars and also a new mum – spends her time practicing for the performance.
G/O Media may receive a commission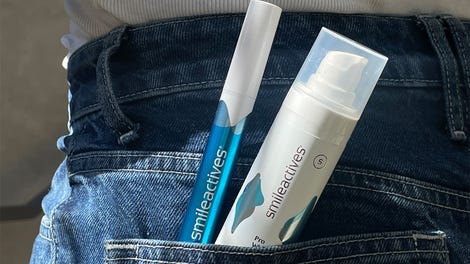 58% discount
Whitening Powerhouse Pen & Gel Duo
LIGHT UP YOUR SMILE
Whiten your teeth at home with Smileactives' one-two punch: Whitening Powerhouse Pen & Gel Duo. This set will give you the kind of teeth whitening power that uses the same ingredients dentists rely on for in-office whitening treatments at a fraction of the cost.
Sirianni managed to keep a straight face and quickly get past what might be the dumbest or maybe the funniest question to be asked all evening.
If the person who asked this is making fun of the event, then by all means go ahead. Ask Jalen Hurts if he's happy the Eagles won the NFC. Maybe ask Travis Kelce if he can spell his last name. Or better yet, ask Patrick Mahomes if State Farm really is the best choice for car insurance.
Either make an art display with stupid questions, or have security escort you out. If you're going to waste people's time, at least do it with a sense of humor.