Kyrie Irving first appearance in the media since the trade to the Dallas Mavericks was an illusion as you can imagine. The dribbling headache he said wanted from Brooklyn because he wants to be in a place where he is "celebrated, not just tolerated". This led to a sense of disrespect, and is ultimately why he hit the sack.
I guess my question is Irving it would be: Why do you deserve to be celebrated? Aside from ball handling, which I'm not sure I'm impressed with anymore, what has Irving done to deserve a celebration? He hasn't been to the NBA Finals since leaving Cleveland, actively attacked his previous three organizations, refused to get vaccinated, promoted some anti-Semitic truth-telling video on social media and refused to apologize until he was eventually suspended.
Here's Irving's entire statement because it sounds even more deranged with context.
"I just know that I want to be a place where I'm celebrated, not just tolerated or somehow treated in a way where I don't feel respected. There were times during this process when I was in Brooklyn that I felt very disrespected, and my talent – I work extremely hard at what I do. But no one ever talks about my work ethic. Everyone talks about what I do off the floor, so I just wanted to change that narrative, write my own story and just continue to prepare in the gym, and now that I'm in Dallas, just focus on what I control."
G/O Media may receive a commission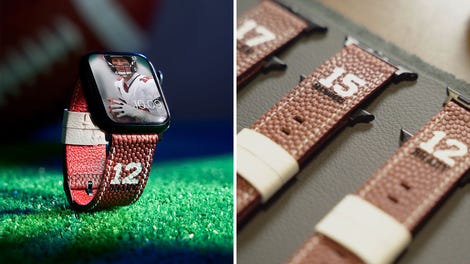 Official NFL PRODUCTS
Official NFL Apple Watch Bands
Goal!
MobyFox has teamed up with the NFL Players Association to bring mega fans a series of handcrafted Apple Watch bands made from authentic football leather. Choose from bands featuring Tom Brady, Patrick Mahomes, Mac Jones, Justin Fields, Josh Allen and Dak Prescott.
Work ethic?! WORK ETHICS?! WORK ETHICS?!?! A guy who only played home games for half a season last year wants us to talk about all the hours he put in.
Hey, members of the media, gather aroundlap. We did Irving a disservice. Instead of writing about the 18 gazillion problematic things he does off the court, let's focus on how hard he dribbles the ball. What determination, what drive, what a… ass.
Kyrie did what he was 'supposed' to do in Brooklyn
If you thought the bullshit stopped at just one quote, there are many more. That first soundbite was amazing, but wait until you read the logic he offered to be comfortable with leaving the Nets.
"I don't want to go into too much detail because now the water is under the bridge. I wish them well. I left them in fourth place. I did what I needed to do, I took care of my teammates, I was incredibly selfless in my approach to leadership, and I just want to do what's right for me — not pander to anyone who has anything negative to say about me or judge me. . This basketball game — simply, it's fun and I want it to stay that way."
I need to know why he thinks leaving his teammates in the middle of the season was "selfless," what he "should have done" and "led." Man, he's really something else.
The only person he looked out for was himself, and after realizing fans weren't steadfast in their loyalty, he changed the story in hopes that his following fan base had no knowledge of the public shenanigans he'd been pulling for the better part of a decade.
Irving will be celebrated – as an All-Star starter
The fact that Irving requested a trade and it was agreed to before the audio was edited on the reaction podcasts speaks volumes for how the Nets viewed Irving. They couldn't wait to send him, and I guarantee no one thanked him for making sure the Nets were four when he left.
I don't know what clause Adam Silver has to invoke to keep Irving from playing in the All-Star game, but he should find one. And if he can't find one, invent one.
I doubt Kevin Durant will risk re-injuring his knee for an exhibition game, but after the shadow he cast on James Harden after Brada was forced out of Brooklyn this time last season, I'm desperate for them to share the court together. The only proper aspect of introducing Irving would be KD swinging at him. Wait… The prospect of a brawl breaking out at the All-Star Game melted my brain, so let me put that back inside.
Do the captains have to choose him in the first eight selections because he is a starter? LeBron James and Giannis Antetokuonmpo should all agree to pick him last and see if he just walks away out of disrespect.
You want respect, Kyrie?! RESPECT DEEZ NU—. Sorry to interrupt, but due to the graphic nature of the shot, it was cut short. Thanks for reading. Have a nice day.