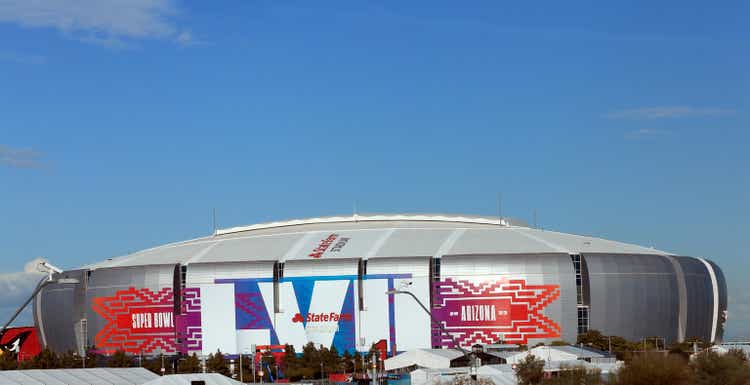 Super Bowl LVII is on Sunday. If you're not that interested in watching the game itself, maybe you'll catch the halftime show with Rihanna… or the ads, which are the most expensive to air all year.
If you watch the NFL regularly, you'll know that healthcare companies aren't shy about advertising during the season. However, when it comes to the Super Bowl, there are relatively few.
This year is no different. So far only continuous glucose monitoring company DexCom (NASDAQ: DXCM) has bought a spot (featuring singer Nick Jonas), while Astellas Pharma (OTCPK:ALPMF) is airing a disease awareness ad targeting women for vasomotor symptoms, Endpoint news reported.
Astellas ( OTCPK:ALPMY ) has a February 22nd US FDA action date for fezolinetant for the treatment of moderate to severe vasomotor symptoms associated with menopause.
Although big pharmaceutical, biotech and medical companies have big marketing budgets, the cost of a 30-second ad during the Super Bowl could be outrageous: $7 million, according to Forbes. They may think they could get more bang for their buck elsewhere than advertising.
But they might be wrong. Direct-to-consumer (DTC) drug advertising has proven to be a successful strategy for increasing sales. And especially during the Super Bowl.
A 2020 study found that DTC drug spots aired during the Super Bowl vastly increased scripts written for the drug. The study examined prescribing trends for Bausch Health Companies (NYSE: BHC) toenail fungus treatment Jublia (efinaconazole) and tavaborole, a competitive and generic version of Pfizer's (NYSE: PFE) Kerydin. Jublia advertised during Super Bowl XLIX and L in 2015 and 2016.
The results showed that after Super Bowl XLIX, the number of prescriptions per 100,000 Medicare beneficiaries increased by 91% for Jubilee and 275% for Tavaborole. The analysis showed that without ads, Jublia scripts would grow by 40%, and tavaborole only by 90%.
Excluding the Super Bowl, pharmaceutical companies are known to spend during the regular season. Pfizer ( PFE ) is the 10th largest advertiser during the 2022-23 NFL season. based on TV ad impressions with a share of 1.17%, according to a report by iSpot.tv. (In case you were wondering, insurer Progressive came out on top with a 2.51% share).
Much of Pfizer's ( PFE ) advertising came in support of boosters of its COVID-19 vaccine Comirnaty.
GlaxoSmithKline (NYSE:GSK) made another list in the report: #5 on Most Viewed New NFL Advertisers with 248.3 million ad impressions.
During the regular season, other pharmas with ads included Bristol-Myers Squibb ( BMY ) for Opdivo (nivolimab) and Zeposia (ozanimod), and AstraZeneca's ( AZN ) Farxiga (dapagliflozin).