A rising tide lifts all boats, so they tell me. The tide on the women's side of AEW, for almost its entire three-plus year existence, has seemed rather stagnant, with the occasional surge that promised more but rarely resulted in a change in altitude. While she didn't want to put too much on her shoulders (although they could certainly carry almost anything), Jamie Hayter's rise to women's champion has clearly changed the direction and makeup of the entire division.
The renewed optimism — which, to be clear, hasn't yet been matched by actual results — is what appears to be the first, overarching story for women unrelated to the title. For so long, the biggest storylines and feuds in the women's division were just title matches that usually took place a week or two before the pay-per-view or Dynamite they were on. It did lead to some great matches and the creation of a few wrestlers, but they rarely went from week to week months for everyone to see what happens next.
That seems to be changing. The split within the division, with Saraya and Toni Storm turning heads and creating a rift between wrestlers who developed in AEW and those who came from elsewhere (i.e. WWE) sets up a slew of matches and eventually culminates in the first Women's Blood & Guts match sometime in the spring or summer (that's obviously where we're going). One was even caught in the middle. Ruby Soho, currently positioned on the original side of AEW, but could be ready to turn it on in no time. While the AEW side already has the company's biggest female stars in Hayter and Britt Baker, along with Willow Nightingale and Hikaru Shida, even Ruby only has three more along with Toni and Saraya. God, who could fourth possibly be? (I hope I hope I hope I hope…)
We've already seen the brilliance Hayter produced with Storm, and Storm and Shida did the same. Throw in Ruby either way and Willow and there are so many matches for Tony Khan to play with to keep this going. It's the kind of setup that forces fans to do all the permutations and fantasy-booking in their heads, which is exactly what AEW should want. They will continue to create new matches, alliances and feuds. It basically feeds itself, something women didn't have. Other than Bryan Danielson hunting MJF, it's the best storyline AEW has ever had.
A lot of credit goes to Hayter, and for several reasons. First, she had an organic rise to the top of the chart, which always attracts more fans and more passionate ones. She got there simply because she was so good in the ring and put on such great matches that the company had no choice but to keep pushing her higher and higher. Second, it has raised not only the quality of matches in the division, but also the perception of what quality is. Fans just got used to seeing better quality, erasing one of the (false) reasons why Khan didn't have to show as many female encounters on TV. Fans now began to rejoice and demand more. Third, she showed that AEW doesn't need such a name fans knew before they started getting TV time to get fans to join.
G/O Media may receive a commission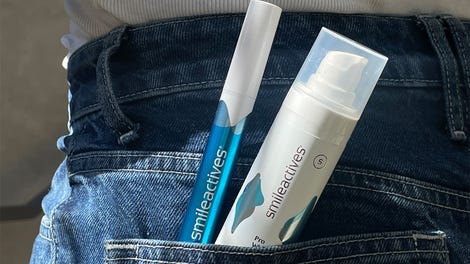 58% discount
Whitening Powerhouse Pen & Gel Duo
LIGHT UP YOUR SMILE
Whiten your teeth at home with Smileactives' one-two punch: Whitening Powerhouse Pen & Gel Duo. This set will give you the kind of teeth whitening power that uses the same ingredients dentists rely on for in-office whitening treatments at a fraction of the cost.
This is the underlying story, that AEW has done a pretty good job under the surface of improving the in-ring work of a lot of wrestlers throughout dark and Dark: Elevation. For example, we've seen a few Jade Cargill-Red Velvet matches in the past, but last night's was a level or two above the rest. Skye Blue could does this kind of shit just a few weeks ago after less than two years in AEW. They are hardly alone. Hayter may have had a big part in raising the ceiling that is women's matches on AEW, but the floor came along with it.
A minute please…
This does not mean that everything is rosy. While there were three women's segments on last night's Dynamite, there was still only one match and it was still in the 9:30 EST time slot, which has been the division's usual time slot for AEW's entire existence, actually. They rarely headlined the show (a slot that AEW basically treats on the same level as the main event) and only slightly more often main evented Dynamite. Hopefully that will change when AEW vs. The outsider angle really kicks into high gear. It has to be.
Let's be honest, there's still a big fish out there, and that's Mercedes Moné. Whatever her character is now, she's definitely still "in the boss's neighborhood" and it's hard to see how her role of coming in to teach these AEW kids a lesson about what a real wrestler looks like doesn't hit her right in the eye. Even if it was only for a few games, even if it was only for a year or two, that's the last juice to share. Sasha Banks has never been in a War Games/Blood & Guts match, and you have to believe that Mercedes dreams of all the things she could do in one. The sudden increase in the quality of her in-ring work also feels like she's rising to the level of Mercedes, and there are more matches with her that fans would be dying to see. But for now it's just a dream.
And as strange as it sounds, the women's department is not need Mercedes. Much like the rise of Hayter herself, this faction-making feud has momentum simply because of the way fans have grown attached to it. And much like Khan did with Hayter, all he has to do is step out of the way to let it flourish.