In the NHL's current march to the gutter, the New York Islanders are the latest to announce they won't be using rainbow jerseys or duct tape for their Pride Night. Even though he's nasty on the surface, digging a little deeper makes him…a little less disgusting. The islanders have never done this, although one desperately wishes someone would videotape the very idea to which it was presented Lou Lamoriello and his reaction. They weren't advertised either, as were the Rangers in one moment and everything leaflets (save one) did.
However, in New York Post there is one story, so-hockey-at-the-cube-blood nugget:
"The only ones they carry are league products: Hockey Against Cancer, the Army and St. Patrick's Day."
We need to protect the Irish in case a municipality wants to introduce its own Punching Day.
Another kind of pride
The NHL certainly isn't the only one taking money to become part of the US military machine, as we know the NFL does so wholeheartedly. It's still embarrassing, but we'll all be dead by the time any league is willing to not join the armed forces. Even the very thought must cause Gary Bettman to urinate.
G/O Media may receive a commission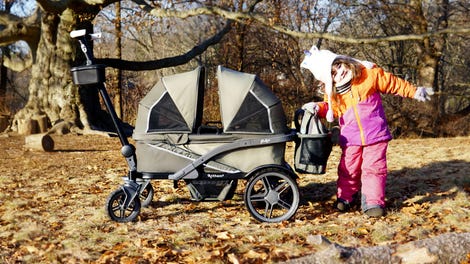 30% discount
Anthem All-Terrain Stroller Wagon Adventure Bundle
Go everywhere with your kids
This must-have package gives you Gladly's award-winning Anthem2 or Anthem4 all-terrain stroller, plus must-have accessories like a parent cup holder, removable storage basket, extra-large canopies, nap system, quilted comfort seats , cooler bag with padded shoulder strap and travel bag.
But St. Patrick's Day? Is this an opportunity the league will make teams look at? We can only imagine the moonstained backlash any player could face if they refused to don a military uniform. But I have to admit that I despair when I see a player who simply refuses to put on a St. Patrick's Day jersey for warmups. You don't even need a reason. We need this comedy in our lives.
To review: The League will bury its head in the pile of sand it finds when it comes to standing up for the LGBTQ+ community and muttering something about individual choice. But if someone out there just thinks the green looks stupid on a certain night, the NHL will absolutely throw them on the bill to preserve the comfort of Patrick from Beverly or Sully from Quincy. That's a line you don't cross in the NHL.
There can't be anything more hockey than barely half-waving at the actual switch-on, but creation symbolism of drinking and fighting chained. Making the LGBTQ+ community feel welcome can wait and depends on how anyone on the team feels about it. But the green light of the buds is sacred. What a way to run a railroad.
DeMaurice Smith is right
The NFL combine has always been extremely strange. It was certainly embarrassing, both because of how closely he was being watched by the really lost at home and because of how deep NFL teams got into it. And certainly optics, where it is difficult Most black men who play pool have their physicality measured by the mostly white staff of NFL teams. Considering that every college football game has been televised for years, doesn't everyone have enough movies about just about everyone?
Head of the NFLPA DeMaurice Smith must think it's weird. He calls for an end to it. They would rather the NFLPA run some regionalized pro days, where they can control the depth to which these players are questioned and interviewed. We have more than enough stories about where combine player interviews go off the rails. It would be better if player-friendly rules made by the union govern these interactions.
Part of the problem is the gap between the end of both the professional and college seasons and the draft. The NFL is the only league where free agency comes before the draft, while NBA and NHL start their draft right after the season and only a few months after college seasons end. If the NFL were to reverse the situation and run the draft, say, right before the NCAA Tournament, teams would likely rely much more heavily on what they have on player film. Which, after all, is the real truth.
Maybe knowing how much a guy can bench or if he's running a 4.3 instead of a 4.5 can color in some lines, but then again, everyone has three or four years of game tape of all those guys, as well as all their scouting reports from guys who attend games. Without the combine, would teams have to hire more scouts? Well, I can certainly afford it.
And that would take us away from the visuals of a bunch of white dudes measuring the length of various black dudes hands or test the strength of their knees while in their underwear. They are playing football, their knees are close to the shot. Move on.
RB Leipzig Willi Orban donates stem cells
Algood, feel good things. RB Leipzig the captain will miss his team's next game, because he donated stem cells because it was found to be a match for someone in need:
Now imagine a Skip Bayless movie about how someone on these shores lacks the game for this.
Emre Can scores a special goal
Doesn't everyone love a goal from midfield? If not, I can only imagine the way you are hurt: