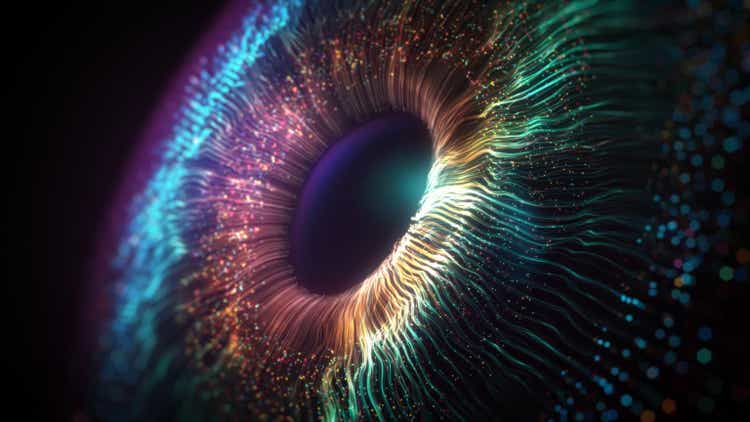 Ocular Therapeutix (NASDAQ: OKO) reported 10-month interim data from a US phase 1 trial of OTX-TKI, an intravitreal hydrogel implant containing axitinib.
Axitinib is a tyrosine kinase inhibitor being developed to treat wet age-related macular degeneration (wet AMD), diabetic retinopathy and other retinal diseases, according to company
An ongoing phase 1 trial is being conducted in patients previously treated with anti-VEGF therapy and is evaluating a 600 µg dose of OTX-TKI in a single implant, with a 2 mg injection of Bayer (OTCPK:BAYZF) (OTCPK:BAYRY) and Regeneron Pharmaceuticals' (REGN) Eyle (aflibercept) four weeks after implantation, compared with 2 mg injections of aflibercept given every 8 weeks.
According to interim data, subjects treated with a single OTX-TKI implant demonstrated stable and sustained best-corrected visual acuity (BCVA) (mean change from baseline of -0.3 letters) and retinal central subfield thickness (CSFT) (mean change compared to the initial value -1.3 µm) in the OTX-TKI group after 10 months.
This was comparable to the aflibercept arm (mean change from baseline in BCVA of -0.8 letters; mean change from baseline in CSFT of -4.5 µm).
The company said that 73% of patients who were treatment-naive by month 7 continued to show prolonged duration of action of OTX-TKIs and remained treatment-naïve by month 10. Overall, a 92% reduction in treatment burden was observed in OTX-TKI treated patients for up to 10 months.
The OTX-TKI implant continued to be generally well tolerated with no drug-related ocular or systemic serious adverse events (SAEs) at 10 months.
The company noted that, as previously reported in the 7-month readout, there was one SAE of endophthalmitis in the OTK-TKI group that occurred after the aflibercept injection at month 1 and was judged by the investigator to be related to the injection procedure.
Endophthalmitis is an inflammation of the tissue or fluid inside the eyeball that contains pus.
"These results demonstrated maintenance of controlled wet AMD subjects for up to 10 months with a single administration of OTX-TKI. We intend to discuss future clinical trial requirements with the FDA and plan to initiate the first pivotal trial for OTX-TKI in the third quarter of this year, subject to funding including potential strategic alliance," said President and CEO Antony Mattessich.
Ocular added that there were no elevated IOP, retinal detachment, retinal vasculitis, or adverse events of implant migration into the anterior chamber observed in the OTX-TKI group.
juice +16.54% to $4.51 in pre-sale on February 13th