A Wayne State University English professor apparently overreacted to the Stanford Law School fiasco. He thought the protesters didn't go far enough, and he said so on Facebook.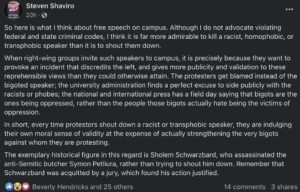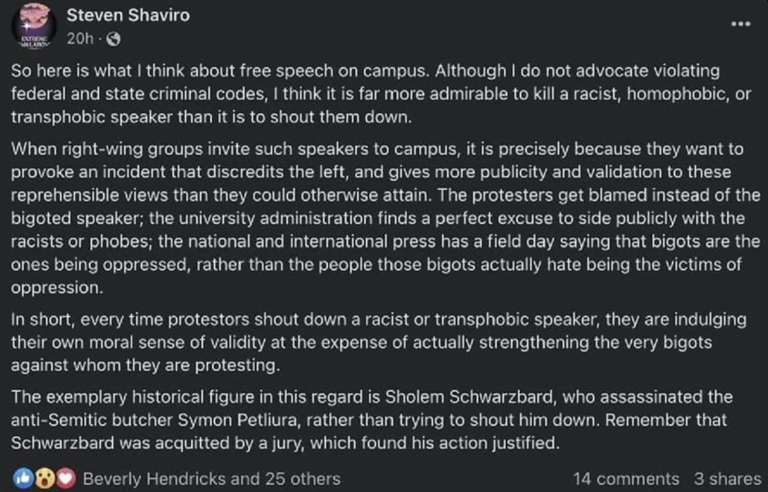 "I think it is much more admirable to kill a racist, homophobic or transphobic speaker than to call them names," he began and concluded with "The exemplary historical figure in this regard is Sholem Schwarzbard, who killed the anti-Semitic butcher Symon Petliur, instead of you try to wean him off. Remember that Schwarzbard was acquitted by a jury, which found his actions justified."
Wayne State's president has now announced that the professor has been suspended and his social media post has been forwarded to law enforcement.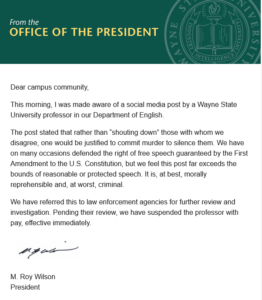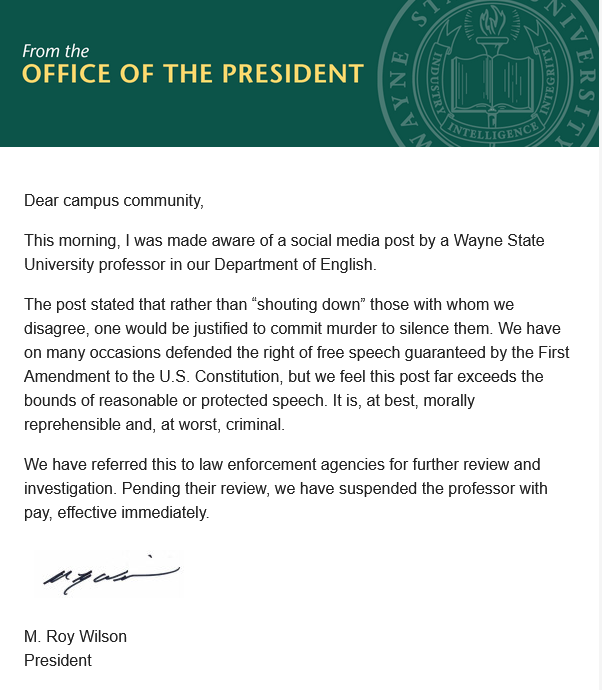 A professorship is almost certainly constitutionally protected as neither a genuine threat nor an incitement to immediate illegal activity. Wayne State, like many universities, has adopted the language of the American Association of University Professors' 1940 Statement of Academic Freedom. According to this policy, when speaking in public as a citizen, the professor should be free from institutional censorship or restraint. Upon completion of the police investigation, the professor's suspension should be lifted.
The professor would do well to take a break from social networks. Negative partisanship has become quite intense in today's environment, and the number of individuals who like to fantasize about the death of their political opponents on social networks is truly worrying.
Now would be a good time for the professor to recall the warning in the AAUP Statement and university policy:
As a learner and educational officer, he/she should remember that the public can judge his/her profession and his/her institution based on his/her statements. Therefore, he/she should be punctual at all times, should exercise appropriate restraint, should show respect for other people's opinions and should make every effort to show that he/she is not an institutional spokesperson.