While the Super Bowl match this time is one of the most fascinating in recent history — two black starting QBs (Jalen Hurts and Patrick Mahomes), the Kansas City Chiefs trying to cement their modern dynasty, what Philadelphia Eagles fans will eat and climb this road — we know that in-game ads will get almost equal coverage. It can be a good distraction, and there are enough people watching the ads themselves before the game that it deserves that kind of attention.
You won't be able to escape Gambling not this time either. The American Gaming Association says a record 50 million bettors are expected to bet 16 billion dollars at Super Bowl LVII. Ever since the legalization of sports betting began to sweep across most of the nation (not you, California, you just have to be that different, right?), gambling commercials have sat on every sports broadcast like a bloated hippopotamus. It could be Joakim Noah grinning at us goofily or Paige Spirinac showing us that she can't really dance or Kevin Hart yelling at us (something from him). They are everywhere and have become such a part of the fabric that one wonders if they haven't taken over the entire landscape.
Molson-Coors and DraftKings team up for Super Bowl ad
It probably won't be too different this Sunday, especially since a gambling company has now partnered with a beer company to create a Rat King of a Super Bowl ad campaign. Molson-Coors and DraftKings have formed an unholy alliance this month that will allow fans to actually bet on how the beer company's commercial will end. It's called "High Stakes Beer Ad." If this sounds a little too dystopian, it probably is, but also keep in mind that Vegas has been betting on soap operas and wrestling for a long time.
After the game, you can be sure there will be a large collection of writers nearly choking clutching their pearls over the evils of sports gambling and sports gambling commercials on every broadcast. Like this. Or this. Or maybe this. There is also something inappropriate about how much gambling is now always present in our sport. Or how easy it is to dive in, since these days you don't need pants or even to get off the couch. You can lose hundreds of dollars in less than a minute without even holding your phone to your face (try to burn some calories while emptying your bank account, people).
Maybe it was just a sudden change in speed. We went from only being able to bet on sports in Vegas or calls to "our guy" or among friends to seeing a gambling commercial on TV every commercial break in a flash. He didn't step up, he came down on us like Monty Python. It was a new world in an instant, and we're still trying to figure out where we are.
G/O Media may receive a commission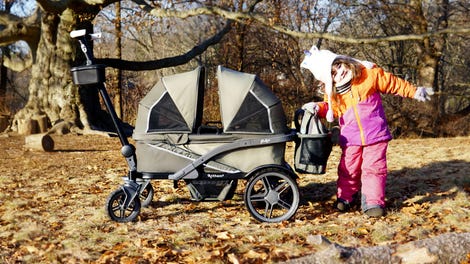 30% discount
Anthem All-Terrain Stroller Wagon Adventure Bundle
Go everywhere with your kids
This must-have package offers you Gladly's award-winning Anthem2 or Anthem4 all-terrain stroller, as well as must-have accessories such as a parent cup holder, removable storage basket, extra large canopies, nap system, quilted comfort seats, cooler bag with padded shoulder strap and travel bag.
It's not new, it's only recently been legal in the US
Of course, the US has really caught up to many other parts of the world when it comes to sports gambling as part of the scene. Betting has been a big part of UK and European sports culture for a while. Throw a rock in England and you'll hit the bookie. Spain has a state swimming pool. Bookmakers sponsor team jerseys, and odds have always been shown on broadcasts. It was hardly unheard of before the US caught on, although we always tend to act that way.
There have been some actions to limit it a bit, but that doesn't mean sports gambling is going anywhere. Advertisements may not be as widespread, but the institution will still be there and present. There has always been doubt as to how long it will be before gambling begins to encroach on the sanctity of actual games and results. But Tim Donaghy took place before gambling became legal. Tennis had problems for some time. Players were thought to be making too much money to be influenced, and the leagues claimed they had protections. We've seen a handful of suspensions and dismissals for gambling-related issues. One wonders how long the props will last.
When gambling becomes an addiction
Some are more concerned about those who become addicted due to the prevalence and simplicity of ads and their availability. And it certainly happens. This study says 1 percent of Americans are dependent (3 million). This one says up to 10 million. This one says 2 million. It is certainly a noticeable problem. It also affects children and young adults.
According to Lia Nower, aprofessor i dprincipal the Center for Gambling Studies at Rutgers University:
"Children who are exposed to a relentless parade of gambling advertisements report they remember and products and betting conditions from those ads, and some teenagers say they were going to gamble on it."
It's worth noting that — since this will be the first Super Bowl in decades to feature ads from beer companies other than Anheuser-Busch, and we're inundated with beer ads — that some estimates 6 percent of adults in the US are alcoholics. Maybe even 15 million. We also know about drunk driving fatalities and other related deaths.
Per And an upcoming Rutgers statewide gambling prevalence study Center for Gambling Studies:
"…sports bettors in New Jersey were more likely than other gamblers to have high rates of problem gambling and drug or alcohol problems, and to experience mental health problems such as anxiety and depression. "Most worryingly, around 14 per cent of sports bettors have thought about suicide and 10 per cent said they have attempted suicide."
Certainly, we're dancing the Whataboutism line here if not falling over it. Maybe we just gave up beer commercials, has gone too far, although it is a more destructive force. We've lived with them a lot longer and maybe the gambling ads will appear in 10 or 20 years when they just fit. We'll be numb to it, which probably isn't good either, but that's how things work.
After all, people have always found ways to entertain themselves that are not good for them in the long run. Probably a short time after the wheel was invented there was someone who could bet with his friend who could roll it the furthest. Legal marijuana is also becoming a bigger and bigger part of the culture, which was unimaginable just 10 years ago. Psychedelics may not be far behind. We are self-destructive animals, but enjoy the fall.
We can't save everyone, and people get hurt. Especially in a society where the tax-exempt organization is supposed to be a force of good and help they are spending millions on Super Bowl ads themselves. Probably a better use for that profit, and it's not like we're not aware of Christianity in this country. Gambling is no different than any other way we spice up our lives by fully embracing the heartburn that may ensue.