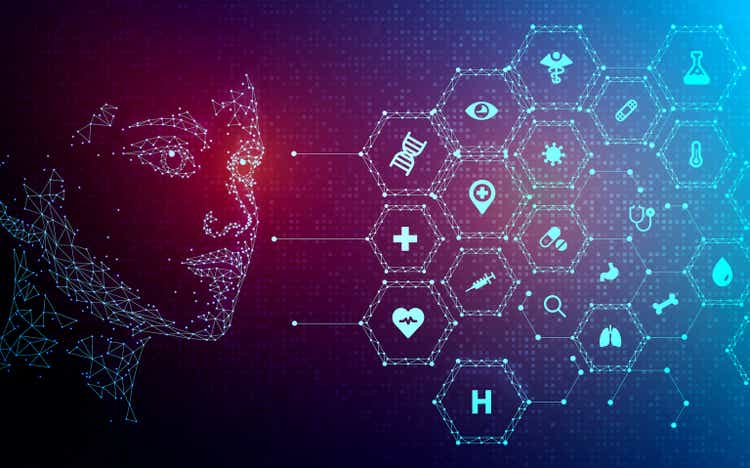 While artificial intelligence is a buzzword in many industries, investors may be surprised to find that its use is growing in medical devices, diagnostics and even drug development.
Indeed, in 2022, the US FDA approved 91 AI or machine learning enabled devices to your list of such approved devices. And since 1995, more than 500 AI-enabled devices have received FDA approval, according to Margaretta Colangelo, an AI consultant at Insilico Medicine.
Three quarters of approved devices are for radiology. In other areas, 11% (57 devices) are in cardiology, while 15 in hematology and 14 devices in neurology. Each of the several devices is for ophthalmology, gastroenterology/urology, and general and plastic surgery.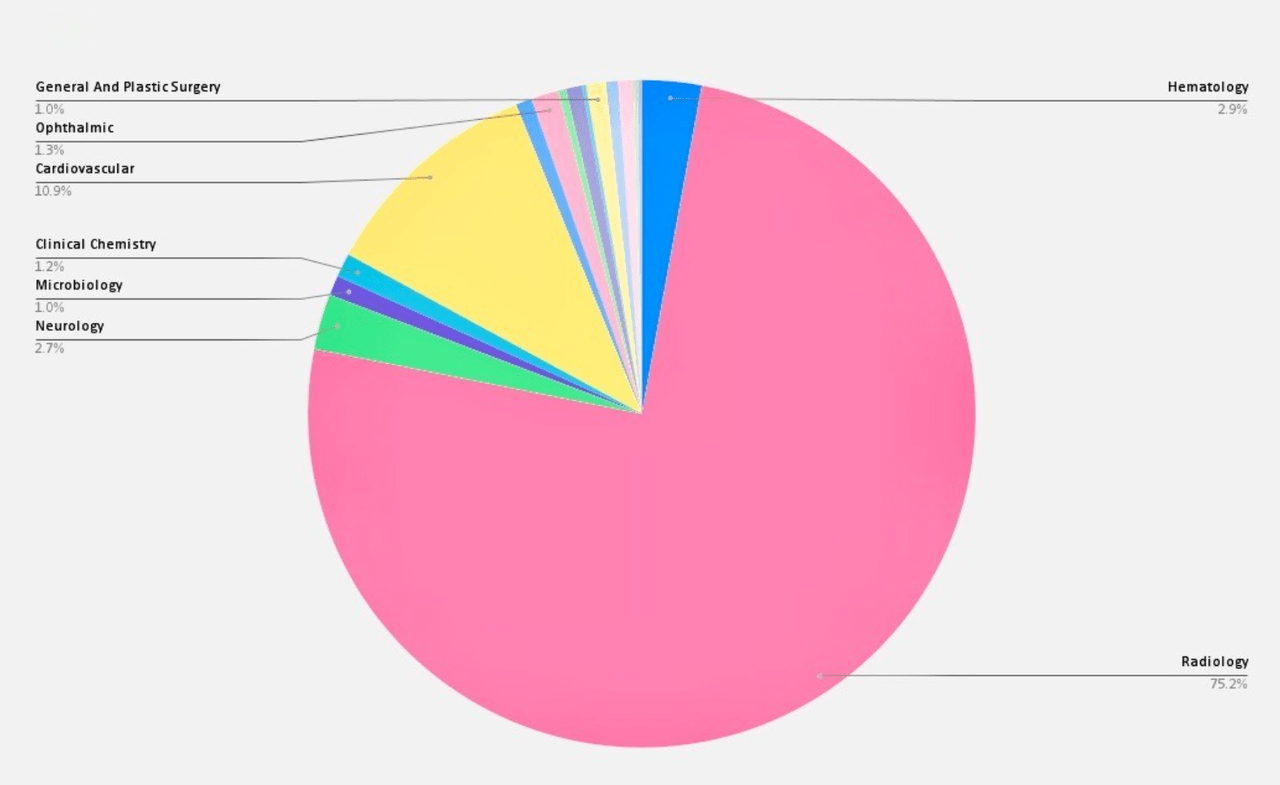 Margaretta Colangelo/Insilico Medicine
The company with the most approved AI devices is GE Healthcare ( GEHC ) with 42. In second place is Siemens Healthineers ( OTCPK:SEMHF )( OTCPK:SMMNY ) with 29. Philips ( PHG ) rounds out the top 5 with 10 devices.
Among the smaller companies in the field of artificial intelligence medical devices is iRhythm Technologies (IRTC). The company received approval for its ZEUS system and companion Zio watch in July 2022. According to iRhythm, the watch "uses continuous photoplethysmography, an artificial intelligence-based algorithm to detect [atrial fibrillation] and calculate an AFib burden estimate." The report is then sent to the patient's doctor.
ZEUS and Zio were developed in collaboration with Verily Life Sciences, Alphabet's ( GOOG ) life sciences research venture.
Among the larger medical device companies, Medtronic (NYSE:MDT) has several products on the list of approved products. These include continuous glucose monitoring devices (Guardian Connect), an electrocardiogram monitor (TruRhythm Detection) and colon cancer detection support (GI Genius).
Big Pharma Partnerships with Artificial Intelligence
It's important to note that many of the companies with approved AI products are smaller, privately held companies. These companies worked with larger pharmaceutical companies. Two worth noting are Paige AI and PathAI.
In June 2022, Paige AI announced a collaboration with Johnson & Johnson's (NYSE: JNJ) Janssen Unit for Artificial Intelligence-Based Biomarker Test to Detect Bladder Cancer. The results will be available in less than an hour.
PathAI has ties to Bristol-Myers Squibb (NYSE: BMY), GlaxoSmithKline (NYSE:GSK), and Roche (OTCQX:RHHBY). In August 2022, the FDA approved the company's digital pathology platform, AISight DX, for primary diagnostics in clinical settings. PathAI also has an AISight product for exploratory and clinical drug development research.
Bristol (BMY) uses AISight to use AI-powered pathology for translational research in oncology, fibrosis and immunology. Roche is using a new algorithm developed by PathAI in its digital pathology workflow software. And GSK ( GSK ) began a partnership in 2022 to use PathAI's AIM-NASH tool to drive drug development programs in oncology and nonalcoholic steatohepatitis.
AI to drive medical device innovation
A recent report from analytics firm GlobalData claims that artificial intelligence will become a significant driver of innovation in medical devices in 2023 as the use of artificial intelligence among doctors also increases. The company noted that the market for AI-based products will grow to $93 billion in 2023, up 12% from 2022.
"We know that [AI] it can be used for data management purposes, remote operations, diagnostic and procedural assistance, clinical trials and more," said Alexandra Murdoch, medical device analyst at GlobalData.
The GlobalData report explains that AI can improve the efficiency of medical device manufacturing and reduce risk through machine learning. By analyzing vast amounts of data, computers can learn from mistakes and make improvements.
In addition, AI is likely to further influence digital health, benefiting patients. As an example, telehealth applications use AI chatbots that take and analyze patient symptoms and then provide health guidance.