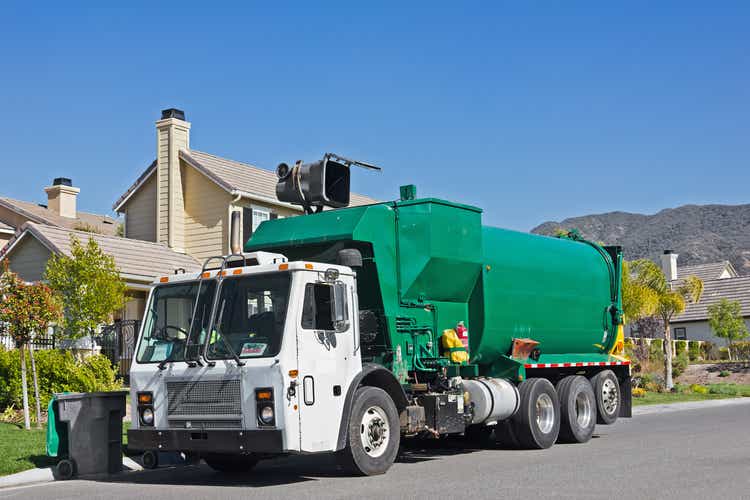 Waste management (NYSE: WM) -1.1% after going public on Tuesday after reporting adjusted fourth-quarter earnings of $1.30 per share and revenue of $4.93 billion that narrowly missed analysts' consensus.
GAAP net income in the fourth quarter fell to $499 million, or $1.21 per share, from $506 million, or $1.20 per share, in the prior quarter, as revenue increased 5.5 % YoY to USD 4.93 billion.
Adjusted operating EBITDA in the fourth quarter increased to $1.36 billion, or 27.5% of revenue, from $1.25 billion, or 26.7% of revenue, in the year-ago period.
Core price in the fourth quarter was 8.1% compared to 5.1% in the year-ago quarter; collection and disposal yield was 7.7% compared to 3.7%; and total business volume fell 0.7%, or a decline of 0.4% on a weekday-adjusted basis, compared with an increase of 2.8%, or 2.3% on a weekday-adjusted basis.
Waste Management (WM) forecasts revenue growth for fiscal year 2023 of 4%-5.5%, including organic revenue growth of 5.5% from collection and disposal activities, excluding fuel, as well as a base price of 6.5%- 7% and the collection and disposal yield approaches 5.5%; The amount of collection and disposal is expected to level off compared to 2022.
The company's total adjusted operating EBITDA for fiscal 2023 is forecast at $5.825 billion – $5.975 billion, compared to $5.51 billion in 2022, an increase of $390 million at the midpoint of the range.
The company previously indicated its intention to increase its annual dividend by $0.20 per share to $2.80.
Shares of Waste Management ( WM ) have lost 1% so far this year and have gained 3% over the past year.